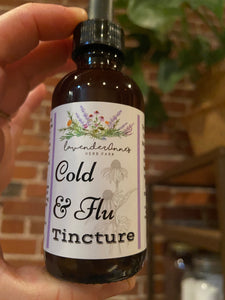 Cold & Flu Immune Boost Tincture
Regular price $12.00 Sale
This blend is full of immune boosting herbs that that can support the body when we feel the signs of a cold coming on. You can also take if you are already feeling sick to help the body replenish what it has lost! Warning this tincture is made with garlic and has a Pizza sauce like flavor because of it! I suggest dropping into a little water and downing it as quick as possible, it's not pleasant but work great!
Shake well.
1-2 t. or 4-6 droppers
2-3 times a day
*This product has not been evaluated by the FDA and not intended to diagnose, treat, cure, or prevent any disease.


Ingredients:
Locally Distilled Alcohol & Non-GMO Alcohol, Echinacea Root*, Elderberry*^, Garlic*^, Ginger Root*, Goldenseal*, Marshmallow Root*^, Astragalus*^, Spilantes*^ and Licorice Root*^
*Organically Grown ^Locally grown