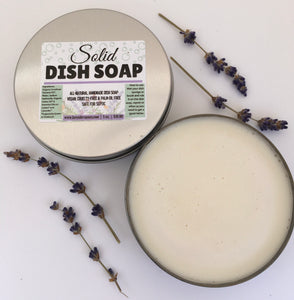 Solid Dish Soap
Regular price $10.00 Sale
FINALLY! No more plastic bottled, toxic and synthetically fragranced dish soap. This all-natural solid dish soap will get you one step closer to getting rid of plastic in your kitchen. This soap lathers beautifully, can cut through dirt and grime (I even use it to wash my oily dishes from making other products), and has a enjoyable Lemon Lavender Essential Oil Blend that smells squeaky clean and leave your dishes crystal clear and sparkly. This bar replace about 2 bottles of traditional dish soap, and can last anywhere from 3-6 months.

This soap is in a 4 oz. flat tin that we place right on our counter to lather our sponge/ brush. Make sure to dump out any left over water sitting on top or around the soap, though the tin is rust-free, removing water between washes can extend the life of the soap & tin.The 5 oz. refill option does not include packaging so you will have to have a soap dish to place it in!

How to use: Wet your dish sponge or brush and rub it on the dish soap, be sure to repeat as often as you need to get a good lather. After a few uses, once the soap gets smaller, you can pop the soap out of the tin and leave it on a soap dish near your kitchen sink, if you prefer.

All-natural, handmade dish soap
Vegan, Cruelty-Free & Palm-oil Free
Safe for septic
5 oz. soap block in flat tin
Ingredients:
Organic Unrefined Coconut Oil, Water, Sodium Hydroxide, Organic Castor Oil & Essential Oils on Lemon and Lavender